Refreshing 90.9 Community Accent - July 1 Interview
Click here and here to listen to both radio segments.

---
South Central Power Awards Grant to Provide Books to Nationwide Children's Hospital Cancer Patients

Thank you South Central Power for awarding The Hank Kabel Sarcoma Foundation a grant to give kids with cancer at Nationwide Children's Hospital copies of "Hank the Miracle Dog." Dogs get sarcoma five times more tha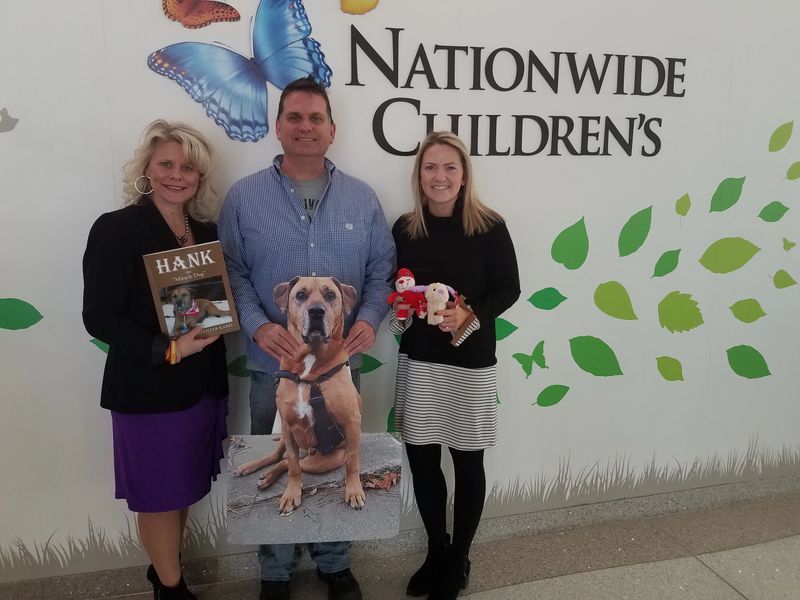 n humans, with children getting sarcoma the second most common. This generous donation will not only bring awareness to the importance of comparative oncology but will also put a smile on these young childrens' faces - just as Hank always did.
---
2018 Hank Kabel Sarcoma 5K Walk/Run Event Selected as Run Repeat Editors Pick

Bethany Lavins, a health psychologist, chose The 2018 Hank Kabel Sarcoma 5K Walk/Run for the Editors Pick Award for 2018. Bethany published a paper/database of her research which discusses dog-friendly walk/run events all across the country. Hank's event was one of the few selected based on the event's fun, unique and outstanding nature. More information is available here: https://runrepeat.com/the-dog-race-database-fido-fitness-and-fun

---
Puppy Up! Blog | July 2018

Click here to read the story.
---
Towne Crier Article | June 2018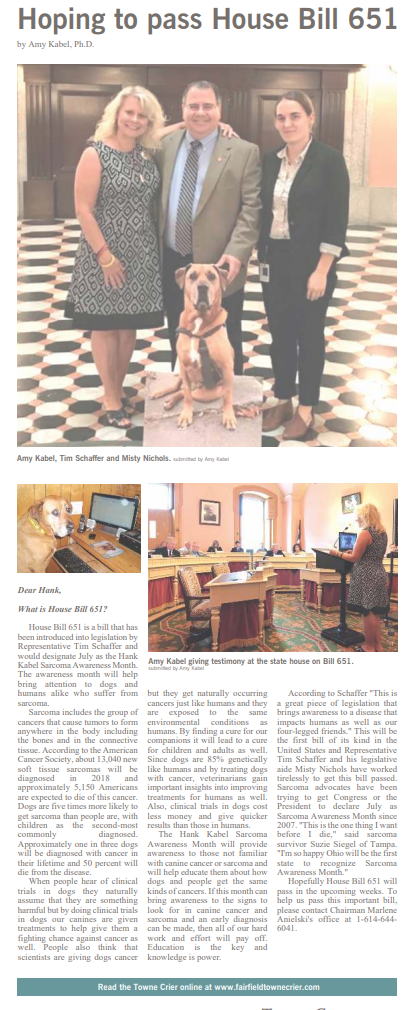 ---
Towne Crier Article | May 2018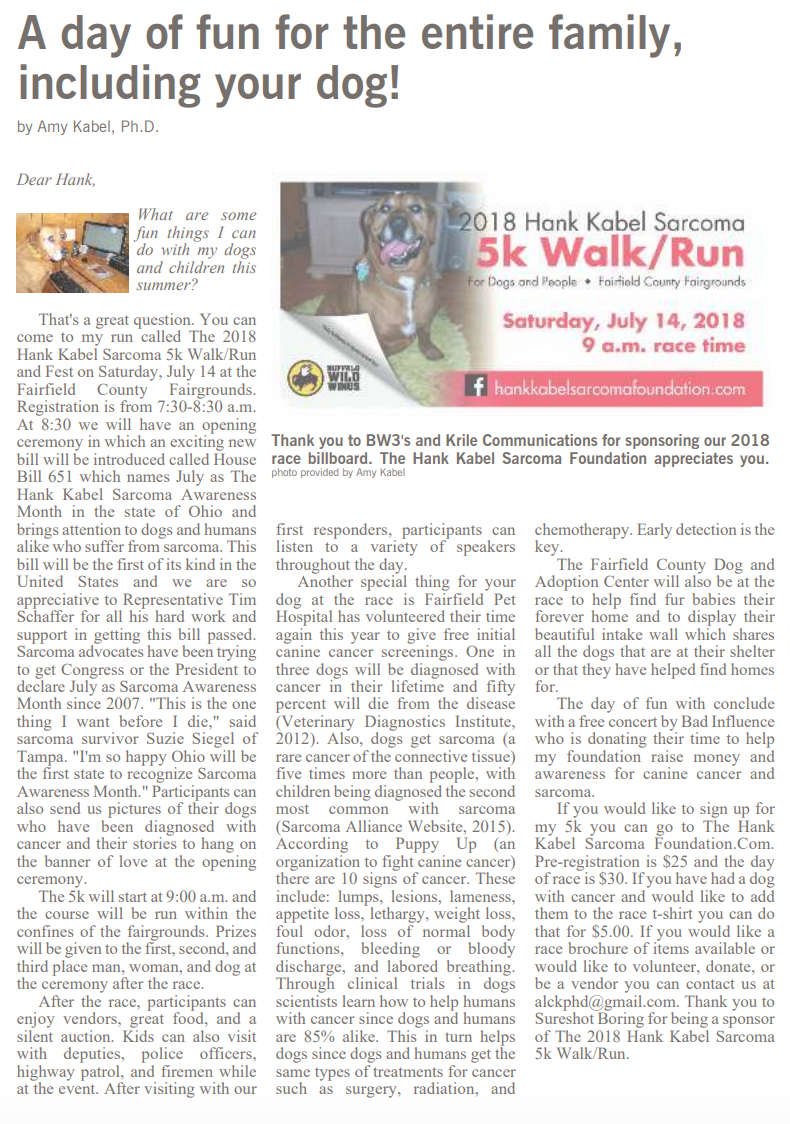 ---
Towne Crier Article | April 2018
---

 

For Immediate Release:                                                                                               Contact: Misty Nichols
May 29, 2018                                                                                                                          (614) 466-8100
 
Rep. Schaffer Introduces Legislation to Designate Hank Kabel Sarcoma Awareness Month
 
COLUMBUS—State Representative Tim Schaffer (R-Lancaster) introduced legislation that would designate July as Hank Kabel Sarcoma Awareness Month.
 
House Bill 651 was crafted in response to a constituent, Amy Kabel, who lost her dog, Hank, to Sarcoma. After his death, she created the Hank Kabel Foundation to raise awareness and funds for canine cancer. The awareness month will help bring attention to dogs and humans alike who suffer from Sarcoma.
 
"This is a great piece of legislation that brings awareness to a disease that impacts humans as well as our four-legged friends," Schaffer said. "Amy Kabel is a major champion for this specific cancer and she has done an excellent job educating the public. I am pleased to introduce this legislation so that more Ohioans can be touched by Hank's story."
 
Amy Kabel added, "Hank was the love of my life and the strongest dog I have ever known. Through his whole cancer journey, he never complained and fought cancer for 20.5 months with a smile on his face. Doctors called him 'Hank the Miracle Dog'. I hope Hank's story inspires others to know the warning signs of cancer and if something does not seem right to get it checked out. Early diagnosis is the key."
 

Sarcoma includes the group of cancers that cause tumors to form in the bones and in the connective tissue. Dogs are five times more likely to get Sarcoma than people are, with children as the second-most commonly diagnosed. Approximately one in three dogs will be diagnosed with cancer in their lifetime and 50 percent will die from the disease.
---
Lancaster Eagle Gazette Article: Calendar featuring Lancaster firefighters, dogs spotlights canine cancer | October 2017
---
Lancaster Billboard | 2018 
Thank you to Buffalo Wild Wings in Lancaster for donating your billboard space!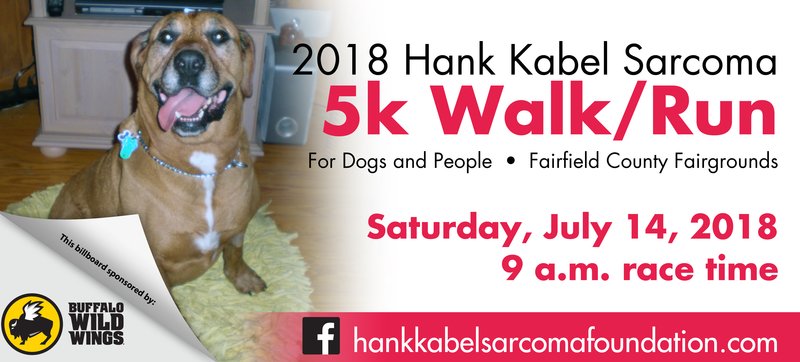 ---
Stuff with Jack Greathouse Interview | August 2017
---
WFCO's Community Accent Interview | July 2017
---
WFCO's Community Accent Interview | June 2017
---
This Week with Sheriff Dave Phalen Interview  | June 2017