2023 Hank Kabel Sarcoma 5K Walk/Run
---
Who
For dogs and people
What
5K Walk/Run for Canine Cancer
Prizes and recognition will be given to teams who raise the most money, and to the winners of the race. 
When
Saturday, July 8, 2023, 8:30 a.m.
Registration is from 7:30-8:30 a.m., with the opening ceremony at 8:30 a.m. and the race commencing at 9 a.m. The opening ceremony will take place at Hank's bench, near where the old grandstand once stood. Participants can enjoy various vendors before and after the race. Join us for the race and stay for family fun with entertainment, food, raffles, silent auctions, exhibits and vendors. 
Notes: Event details are subject to change. The race will take place rain or shine. Once we receive and accept your entry fee, sponsorship and/or donation, it is non-refundable. Walk-up registrations will be accepted for $30/person, but we will only be able to accept cash or check for onsite registration.
Where
Fairfield County Fairgrounds, located at 157 E. Fair Avenue, Lancaster, Ohio 43130. See the race-day map below.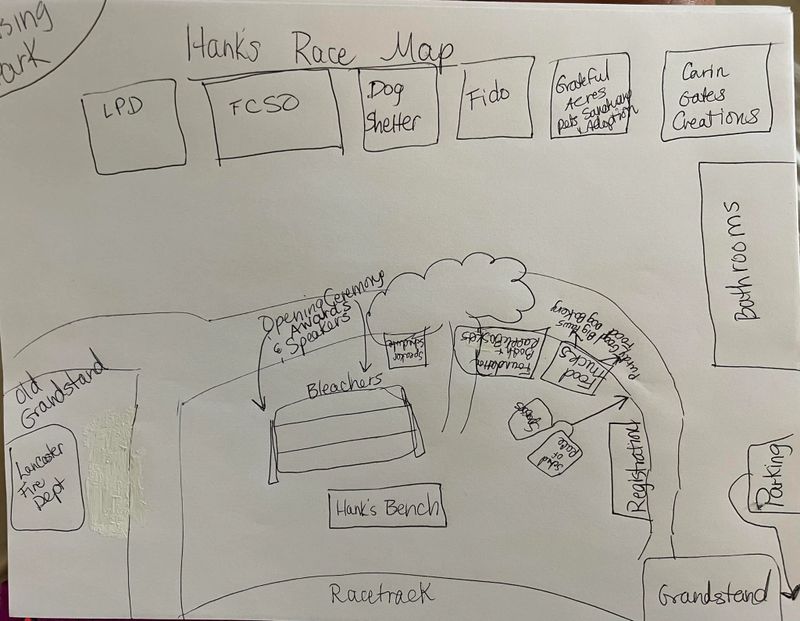 Why
To help the Hank Kabel Sarcoma Foundation raise money and awareness for canine cancer and to honor Hank and all other dogs who have lost their battle to this devastating disease. By participating in Hank's race you, are not only raising money for dogs with cancer, but also for people with cancer, since clinical trials in dogs help decide medicines that are effective in human cancers as well.
Cost
Registration is $25/person, which will go directly to help fund canine cancer research through the foundation. Children 14 and under will be admitted free, but must be accompanied by a registered adult; children 18 and under must have a guardian sign the form for them. Registration will be accepted the day of the race for $30/person. You may also purchase race-day items - including T-shirts, bandanas and medals - through the online registration page.
Additional Information
As more information is available, we will update Hank's Facebook page (click here). Please follow the foundation on Facebook for more specific information about the foundation, calendars, race info and yard sale dates.
Please Help Spread the Word!
Would you please take a moment to help us spread the word about our event? Please share details with your friends and family and invite them to join you for the race!
Questions
Contact Amy Kabel at alckphd@gmail.com or call/text 740-974-2811. If you know of anyone who would like to be a sponsor or vendor at the event, please have them contact us for more details.
Vendor Registration
If you'd like to be a vendor at this year's race, please complete the Vendor Registration Form in one of three ways:
Save the image below, complete the information and send it to Amy.

Click here for a Google Doc

you can save to your computer, complete and send to Amy.

 Email or call Amy for a Microsoft Word form.
Once you complete the form, send it to Amy Kabel via email at alckphd@gmail.com or via text 740-974-2811 by June 10.
---
Testimonials

"Attending helped us so much. It is a great event. You put so much work in to it and it is so appreciated. I wouldn't have wanted to be anywhere else. We can't wait to attend next year and bring more friends and family with us."


~Connie



"Looking forward to another great year. Can't wait to work with you again."


~Oliver
"I want to applaud you on all of your hard work and dedication. Your website is fantastic, all of the information and videos (I watched all of your videos). Not only am I so happy and delighted to be a part of your race, but I watched and listened to your research and information on sarcoma. It makes me think this race needs to become something even bigger and nationwide!"


~Susan
"Signed up again for this great cause! Run, walk with a group, walk with your pups, walk alone...just get to this event and help end canine cancer (Also, research helps with people battling cancer because trials on dogs help determine treatment options for humans). It's a great, family-friendly event!" 


~Michael
Can't make it to the race, but would still like to support our cause? 
If you haven't already, check out our story, and please feel free to support our cause!